Mike Wenc
2020 Competitor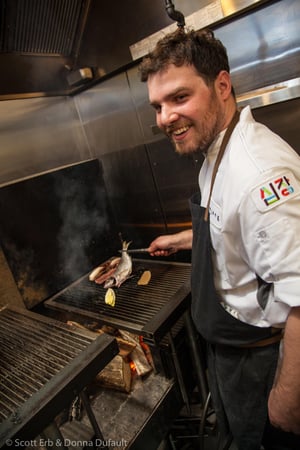 For Mike Wenc, cooking was never part of the plan. Despite growing up in bucolic Western Massachusetts and frequent trips to the Vineyard where he'd hand-pick fresh bluefish and striped bass from the local markets to grill with his father, Mike never considered a career in restaurants, nor did he attend culinary school. Instead, he graduated from a well-regarded college (Bates '10) with a degree in history and landed a coveted job at a law firm in New York City. But it wasn't for him.
After returning home, a family friend connected Mike with Tim Maslow who had recently arrived in Massachusetts from Manhattan and was making waves at his father's neighborhood restaurant, Strip T's. What began in 2012 as an internship evolved into a position as line cook. He had found his passion. Over two years, Mike gained experience and worked alongside Jared Forman. Little did they know, they'd be collaborating on a project together years later.
Since his start just six years ago, Mike has cooked at some of the area's most well-regarded restaurants. He joined the younger Maslow at 4-star Ribelle and was sous chef on the opening teams for Susan Regis' Shepard and the French-Canadian Cafe du Pays.
Mike joined Jared in the kitchen to help open the American-Korean concept, simjang, in Worcester, before moving over to deadhorse as sous chef.