Jared Forman
Luci's Taco Shop and Margarita Bar
2020 Competitor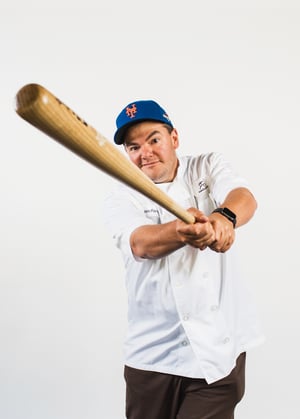 Born and raised in Brooklyn as a diehard Mets fan, Jared's earliest memories of food was the diversity the city had to offer. From Sunday red sauce Italian dinners at home with the family, to Chinese, Thai, and Indian in Queens, to french and upscale restaurants in Manhattan, he couldn't get enough of how varied the flavors and experiences were there. Jared first pursued an associates degree in chemistry and math at Hunter and Queensborough Colleges before realizing his real passion and applying to the culinary arts program at Johnson & Wales University in Providence, RI.
The official launch of Jared's culinary career came when he landed an internship at the critically-acclaimed Per Se in New York where he was provided the opportunity to work and truly learn about kitchen operations. Next, he took a position at momofuku noodle bar before moving over to momofuku Ssäm Bar shortly after its opening. After three years with David Chang, Jared joined the team at Michael White's Marea and spent six months between the pasta and crudo stations. He then secured a job as a line cook at Gramercy Tavern working under Michael Anthony and in the pastry kitchen with Nancy Olson.
Jared then moved to Massachusetts to help Tim & Paul Maslow run Strip T's in Watertown as Chef de Cuisine and open Ribelle in Brookline, MA. While there, he was able to experiment, cook the food he loves, connect with customers, and help reinvigorate the longstanding neighborhood favorite. There, he met Sean Woods, his future business partner.
In May 2016, Jared & Sean opened deadhorse hill, a refined American restaurant in downtown Worcester. Then, in March 2018, he introduced sibling restaurant simjang, an American-Korean concept. Leading the charge in the city's dining revival, 37 year-old Jared brings his passion and talent to his first owned & operated spaces.