Bobby Ryan
2020 Competitor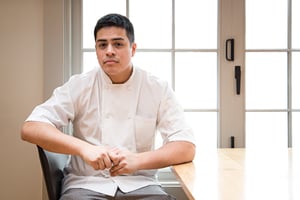 Bobby Ryan has been strongly passionate about food since a very young age. It wasn't until he got his first job in a restaurant in Northborough, MA that he realized it's potential as a career. From there, Bobby was able to focus his passion in culinary arts. He attended Johnson and Wales University in Providence, RI and received a Bachelor's Degree in Culinary Management with a focus in Culinary Arts. All while working as a catering chef at Pepper's Artful Events. During this time at college, he also had the opportunity to work at UmiNom in Brooklyn, NY and The Merrion Hotel in Dublin, Ireland.
After graduating, Bobby moved to Boston and started at the bottom at No 9 Park, the flagship fine dining restaurant of the Barbara Lynch Gruppo. Over the years he ascended through the ranks to achieve the Sous Chef position. After leaving the No. 9 Park he landed the Executive Sous Chef position at Parsnip, located in Harvard Square in Cambridge. Most recently, Bobby has returned to Pepper's Artful Events to round out the culinary team and bring his extensive skills and expertise to help grow the company.

Bobby's culinary influences remain varied but he has a deep love for European technique woven together with international ingredients. His style remains focused, light and seasonal, preferring to let the natural flavors speak for themselves without too many other things getting in the way. He strongly believes that food should be nostalgic, personal, and most importantly, enjoyable.

Bobby currently resides with his fiancée, Ariel in Jamaica Plain, MA. In the rare moments when he is not working, he is most likely thinking about his next meal!