Barbara Houle, Worcester Telegram & Gazette, Table Hoppin'
WBC 2020 Judge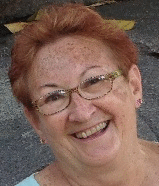 Barbara M. Houle is the retired food editor of the Worcester Telegram & Gazette in Worcester, working there more than 35 years as a reporter and editor. She currently freelances a weekly column, "Table Hoppin," and a Sunday column,
"Meet the Chef" for the T&G. She writes two columns in the newspaper's quarterly, Worcester Living magazine, in addition to food and travel stories. She also has written for other national and local publications.
During her career, Barbara has garnered numerous awards, including the
Massachusetts Dietetic Association's Media Excellence Award; The Massachusetts
Agricultural Day Award; and the Massachusetts Fruit Association's Dr. Ronald J.
Prokopy Award, both in recognition for her support, viability and sustainability of
the agricultural industry in Massachusetts, to name a few.
She has judged food competitions for the National Cattlemen's Beef Association,
Pillsbury Bake-Off, national barbecue and chili cook-offs, etc. She has judged
alongside food icons, such as Julia Child. Local food contests have included chicken
to Girl Scout cookie desserts and "everything" in between.
Barbara has served on community boards, including the Worcester County Food
Bank, and continues to be an advisory board member for the culinary arts program
at Worcester Technical High School. She is member of the Les Amis d'Escoffier
Society, Joseph Donon Chapter. She has not only been privileged to interview celebrity chefs, but also has been a dinner guest in their homes.
Barbara looks forward to the 2019 WBC competition and what chefs bring to the
table.