Shane Anderson
Eller's Restaurant
2018 Competitor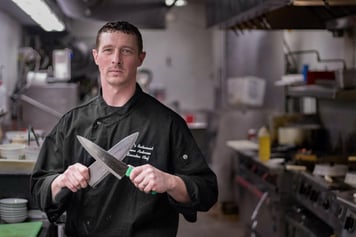 Chef Shane Anderson has a beautiful wife Suzanne Anderson and a beautiful daughter. Lillian Anderson. He graduated from Bay Path in 1999, and trained by Chef Al Hunt and Mark San Souci. For the past 20 years, he's worked in the Foodservice industry, and his passion is to cook great food and continue learning new trends that come to the industry.
He enjoys the outdoors: fishing, hunting, camping, and spending time in Maine and New Hampshire with his family and friends. Cooking for his friends and family are a couple things that he loves to do when he's not at Eller's restaurant.
Chef Anderson and his team strive to make every meal like they would like it prepared for themselves, and to make every experience one that would keep you coming back for another great meal.