Joao Neto
Allora Ristorante
2019 Competitor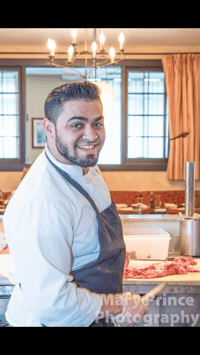 Born in Minas Gerais, Brazil, João Neto developed his passion for cooking and hospitality by watching his parents and grandparents prepare traditional cultural meals for the entire family. After earning his degree in business and with the love of cooking and a managerial personality thatwere always in his blood, João decided to move to the United States in 2008 and pursue a career in the restaurant industry.
While working as line cook at Rossini's Pizzeria in Concord, MA, João met his future wife, Tatiana Clerici, whose family hails from the region of Parma. It was then, through the mentorship he received from his Chef, and the experience with his wife's family, that he began to learn about foods from multiple cultures, and developed a particular appreciation for Italian cuisine. João loves to create, research, and experiment with cutting edge culinary trends and new ideas, while also striving to continue to develop his focus and mastery of Italian food.
As the Sous Chef of Anzio's Brick Oven Pizza in early 2015, João and his team won 1st Place in Judges Choice category of the annual Worcester's Best Chef competition. His winning dish was an appetizer of seared sea scallops with blood sausage over celery root puree, finished with scallion pesto and tangerine citrus butter. João worked at Tomasso Trattoria from October of 2015 til October 2018 and under the tutelage of Executive Chef Daniele Baliani, quickly rose to the position of Chef de Cuisine.
The future holds new challenges and opportunities, as João recently joined the team at Allora Ristorante in Marlborough, where he can always be found behind the line at Allora's working with talented chefs making sure to add a personal touch on the food that he serves.