Jim Palmariello, Lead Chef & Worcester Public Schools
WBC 2018 Judge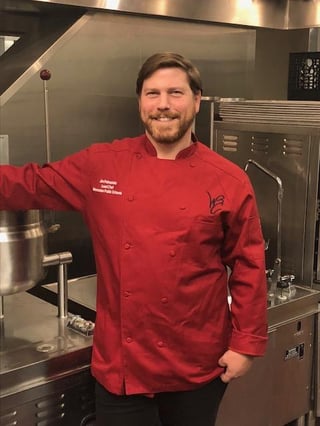 Chef Jim Palmariello of Lead Chef has 30 years working in the industry. For the first 15 years, he worked in fine dining in mostly country and city clubs as well as hotels including The Harvard Club, Ipswich Country Club, Winchester Country Club. Hotels were Bostonian Hotel and Charles Hotel and also did time in Florida at the Palm Beach Country Club, Orchid Island Golf and Beach Club and Disney Vero Beach Resort. During these years held every title except pastry chef.
Since Graduating from Newbury College in 1992, culinary competitions were a passion of his, specifically ACF (American Culinary Foundation) competitions. He was hooked on competitions for more than ten years, competing in professional hot, cold, and centerpiece categories
locally, regionally, and nationally. In total, he had competed in 11 states and compiled over 30 medals including 6 gold, 9 silver, and 12 bronze including a 2nd place in the Chef's Championship in NYC, which was a national show judged by 4 Certified Master Chefs. After he stopped competing, he taught professional chefs and students how to compete through the Epicurean Club of Boston and local colligate culinary programs. Chef Jim also started the Boston Culinary Classic competition at BU, which was a local ACF competition in which there were 40 chefs from the northeast compete in hot and cold categories.
He left fine dining for manufacturing in 2003 when he joined Progressive Gourmet. At the time, they were only a distribution company, but along with their cooperate chef we started and built the manufacturing division. For 7 years, he worked as Executive Chef/Plant Manager of the fresh division, and 2 years as a R&D Chef/commercialization specialist.
He currently works for the nutrition dept. of Worcester Public Schools training cooks, which allows more time to be spent with his two teenagers.