Barry Keefe
Dinner & Company Gourmet Catering
2019 Competitor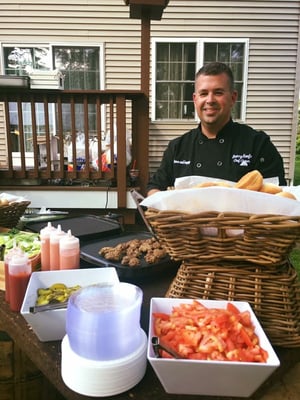 Chef Barry Keefe has been cooking and working in the food service industry
for almost 30 years. Barry attended Johnson and Wales University where he received a degree in Culinary Arts. In 1994, Barry was hired by Bullfinchs Restaurant in Sudbury, MA as a Sous Chef and later became Executive Chef. During that period, Barry published a cookbook, was featured on Phantom Gourmet and had several appearances in the Fox morning news show.
After 18 years as the Executive Chef at Bullfinchs and meeting his wife Rachael, Barry went on to opening up his own catering business.
Dinner and Company specializes in weddings, is a 5 star caterer and have won several awards throughout our 9 years of business. Barry is excited for everyone attending WBC to try his signature dish.